SUPERIOR HOMEOWNER BENEFITS
The NCI Certified System Performance program will set your company heads and shoulders above the rest.   You'll proudly be able to offer customers reassurance that they'll getting, and you'll be providing:
Confidence That They Get What They Paid For
One key homeowner benefit is the knowledge that you will provide written proof, based on measurent and documentation, that their new system is operating at the peak performance that was promised after the work is performed.
Real Energy Savings and Comfort
At the core of the NCI Certified System Performance certification program are the CSPS™ and HSPS™ ratings based on the percentage of Btus that actually get delivered into the conditioned space, compared to the Btu rating of the equipment.  This where the rubber truly meets the road.  It reveals what portion of every utility dollar is benefiting the homeowner, and whether their system can maintain adequate levels.
Equipment Lasts Longer and Has Fewer Problems
Since a certfied system has been thoroughly tested and adjusted, the qeuipment will operate with less stress and strain on it's components.  This also helps ensure the equipment will run longer with fewer breakdowns and lower repair costs.
Higher Home Resale Value
A certfied system provides potential buyers with proof of it's superior performance and loewr utility bills than similar-sized homes.  A NCI Certified System Performance home is more comfortable than most homes that typically experience temperature differences from one room to another by as mush as 5 – 10 degrees, or more.
Consumer Promotional Materials
As a participant in the NCI Certified System Performance Program you will have access to a variety of consumer-focused promotional materials to help you sell the service.
"What Can An NCI Certified HVAC System Do For My Home" Trifold Pamphlet
(mouse over the image to view both sides)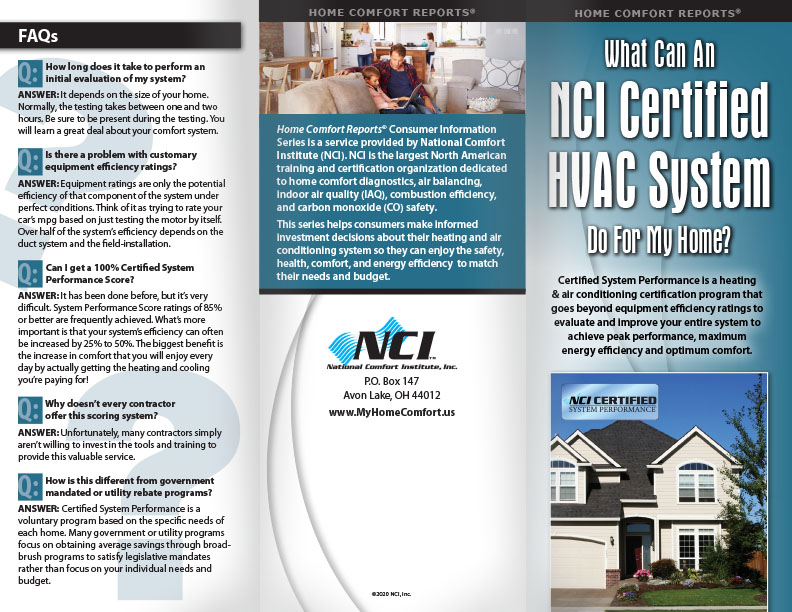 "Step Up to NCI Certified System Performance"
8-Page Brochure